5th Annual Dig 4 Jimmy Surf n Turf:
Thank you to our sponsors for their support and making this years Event the best ever.  The Jimmy Miller Foundation and Dig for Kids Education Foundation combined efforts to raise funds for their Charities but more important having fun a event for the whole family to enjoy.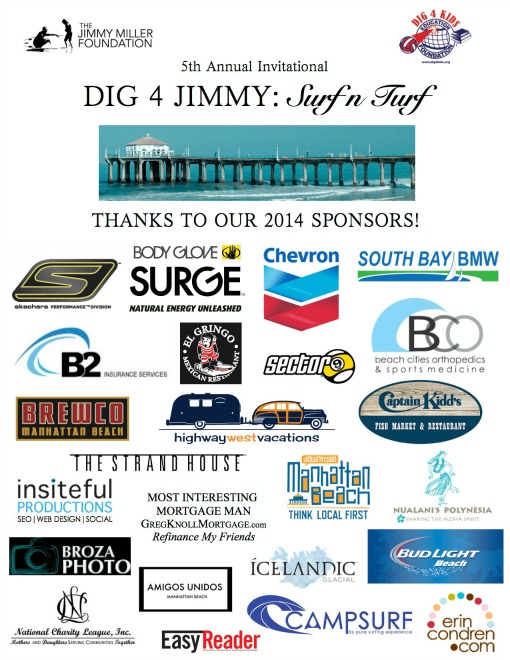 The first ever surfing and volleyball Surf N Turf Invitational.
Surfing and volleyball are two of most famous South Bay activities and are integral to two great non-profit foundations in our community and the high school friends who inspired the creation of each foundation.
Jimmy Miller and Eric Fonoimoana grew up together surfing and playing volleyball with their friends and family at the beach. They both played on one of the greatest Mira Costa High School volleyball teams in its long history and put their dedication and efforts into the sports they love. Jim's love of surfing led to world travels and the creation of a surf school in Manhattan Beach. Eric's love and dedication to beach volleyball led to successful career as an AVP pro and an Olympic Gold Medal.
However, up until The Surf N Turf there had never been an event that encompasses the friendly and family style spirit of these two great beach sports. The Dig for Kids and the Jimmy Miller Memorial Foundations are proud to present the 2014 Dig 4 Jimmy Surf N' Turf Surfing and Volleyball Invitational.
We are taking the spirit of the Jimmy Surf Fiesta and mixing it with the great team volleyball tournaments that we all enjoy through the summer. The goal is to have the surfers playing volleyball and the volleyball players surfing together and to invite all levels of surfing and volleyball skills to come down to the beach to enjoy a day of friends, hula dancing, family and good times.